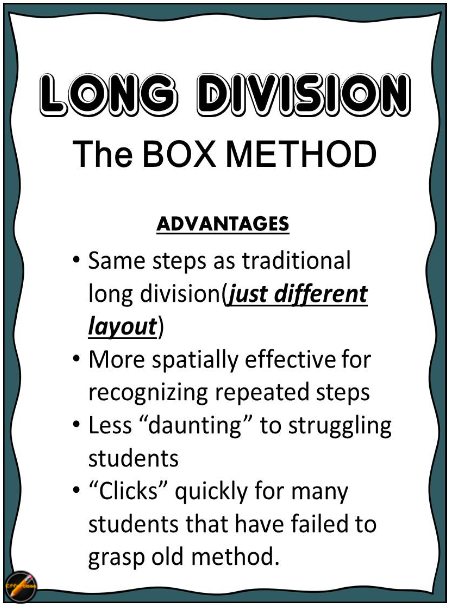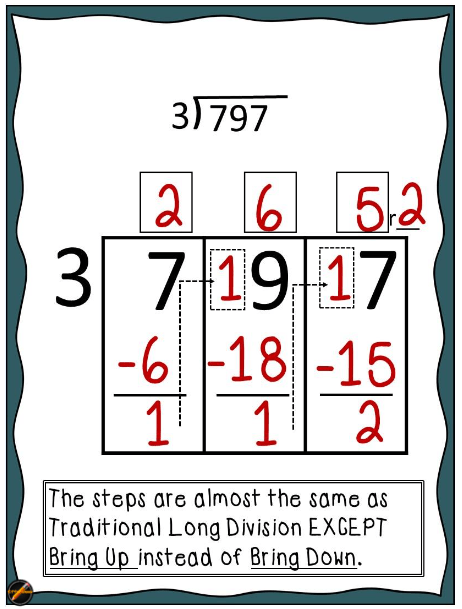 Dear parents,
We are currently working on the dreaded LONG DIVISION in math. I promise I don't use new methods to confuse you, rather we use this methods to help students build their math sense.
Today students have been assigned p. 72- (Cheetah's 3. c,e,g 4. b,c 5. a,b,e 6. all 8. all/Jaguars complete assignment).
All (answer after we divide one number by another. dividend ÷ divisor =) quotients have decimals (not remainders). Please present quotients to the thousandths and stop or indicate it is a repeating decimal.
Are you wondering which cat your kiddos is? This week we decided to give code names to the kiddos who work really hard in math but take a little longer to practice new skills. Cheetah's need to practice the math concept but have a reduced number of questions. Jaguars often are able grasp the concept at a little quicker pace and therefore will do a few more questions to strengthen their skills. At this time I am letting students privately decide their group as they know themselves and their abilities. (The choice can be empowering.) Don't worry, if you think you have a jaguar who is acting like a cheetah I am also checking in to make sure they are being accountable and challenging themselves.
An important note about homework, I work pretty hard in class to provide enough time to complete tasks. If students don't get through their work I will often modify the assignment or provide time to work on it later. Sometimes kiddos have homework though for a few reasons that usually are based on individuals. In grade 7, the homework load will increase. Students will be accountable to several teachers and this will be evident in their grades. While we (intermediates) are shifting to a scale based assessment on meeting expectations, in grade 7 students will have percentages and missed assignments greatly impact grades.
We have had a few projects lately that have had a deadlines. Students have been given as much time as we can afford to complete in class the assignment. For example, students were given three 30 min blocks to copy the Ma Famille script (had done ahead and was checked). During these 90 mins, students were expected to sketch basic pictures of their family, transfer their script and practice pronouncing their vocabulary to prepare for a presentation.  After 90 mins of class time I set the due date for this Monday and presentations on Thursday.
On Monday I had 13 students present with work unfinished. Students have had a chance to complete these booklets and submit them again. The bigger picture is that we are working on accountability! Please help support your student by checking their planner. With the arrival of spring weather, students would rather not do home work. I get it! I will try to make sure they don't have much, but they too need to focus and use time well to ensure they avoid dreaded homework. We have few weeks left to focus and achieve the goals we set out at the beginning of the year!
Peace and grace,
Ms. Froyland
p.s. If you have questions, I generally check my email right after school or once during the evening.